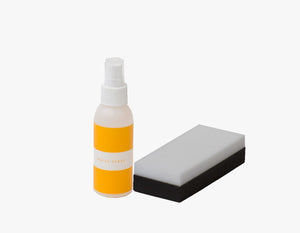 Foam Duster + Eco Cleaner
Vicinity Whiteboard Foam Duster + Eco Cleaner 
Hard foam for good grip and preventing accidental scratches
Light-weight 
Vicinity WBP Eco-Cleaner - non-alcohol base cleaner that removes stubborn whiteboard ink effectively without damaging the whiteboard. Suitable for whiteboards including painted whiteboards.
Use dry microfiber cloth of foam dusters for day to day cleaning .
Use Vicinity Eco-Cleaner for stubborn stains. Once done, wipe with damp cloth to remove Eco-cleaner residue before using the whiteboard.

What do you get : 
100 ml Vicinity Eco-Cleaner and 2 Foam Dusters